2014 Nissan Altima
2014 Honda Accord
$21,860
Base MSRP
$21,995
38 mpg
HWY Fuel Economy
36 mpg
182 horsepower
Engine Power
185 horsepower
40/45 inches
Front head/leg room
39.1/42.5 inches
2014 Nissan Altima vs. 2014 Honda Accord
Drivers in the market for a mid-size sedan are ultimately interested in a vehicle that provides a significant level of comfort. Not only is physical comfort an important feature, but drivers embrace the type of comfort derived from knowing their car represents noteworthy value—a prudent investment with solid long-term potential. According to the numbers, the Nissan Altima and Honda Accord remain popular sedan choices into 2014. For this reason, Continental Nissan highlights comfort and value in comparing the 2014 Nissan Altima vs. 2014 Honda Accord.

Beginning with each vehicle's initial value, the lower MSRP attached to the 2014 Altima makes Nissan the early sedan favorite. However, even beyond any base price considerations the Altima presents long-term value with a fuel economy above and beyond that of the Accord. Registering 38 highway miles per gallon, sedan drivers comparing the 2014 Nissan Altima vs. 2014 Honda Accord will find more significant value with the Altima at every level of ownership.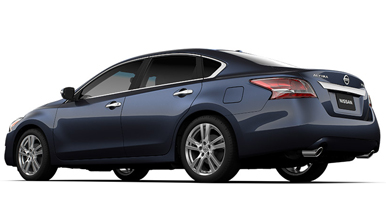 Comprehensive Comfort with 2014 Nissan Altima
The value inherent to the Altima certainly creates warm and comfortable feelings for Nissan drivers. The 2014 sedan, however, includes enough physical comforts to bring drivers memories of real-to-life luxury as well. In contrasting the 2014 Nissan Altima vs. 2014 Honda Accord with respect to passenger space, the Altima clearly exhibits a design that seeks to maximize comfort for the driver and front passenger. Both seats set in the Altima's front row were designed using data made available from NASA. Nissan studied information regarding an astronaut's natural posture in zero-gravity conditions and designed the Altima's seat to support their natural posture. An even greater level of comfort is achieved with more available front head and legroom than the 2014 Accord.

All the comforts of the 2014 Altima are available now near Chicago at Continental Nissan. Click to view Continental Nissan's current inventory for the king of comfort in the 2014 Nissan Altima vs. 2014 Honda Accord comparison.